Duckswax Water Repelling Leather Tonic Black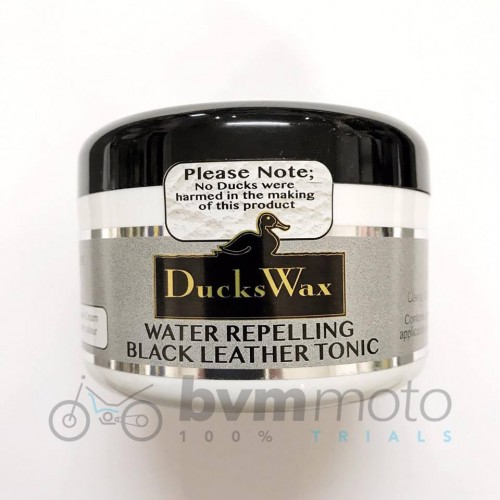 Developed by a trials rider who was feed up of getting wet feet with his trials boots, Duckswax is ideal for helping to keep your trials boots in wonderful condition. This product extends the life of your leather and wax items. The ultimate in long lasting protection. Wont stain stitching. Sweet smelling and insect repelling. Leather Food. Moisturize-soften-preserve. Helps to waterproof your leather. Reduces water absorption. Conditions and revives the look of the leather or wax fabric.
DucksWax is a natural product that breathes new life into your leather. Which penetrates the leather skin conditioning and helps maintain natural suppleness. Once applied the surface is left grease free making DucksWax the perfect treatment for leather furniture, leather car seats, Leather Clothing and saddles & tack. For all outdoor leathers DucksWax repels water and moisture and is a favourite amongst Motorcyclists, Horse riders, Golfers, Hikers and anybody working outdoors. DucksWax is translucent & can be applied to all colours and restores the natural sheen to all leather surfaces.